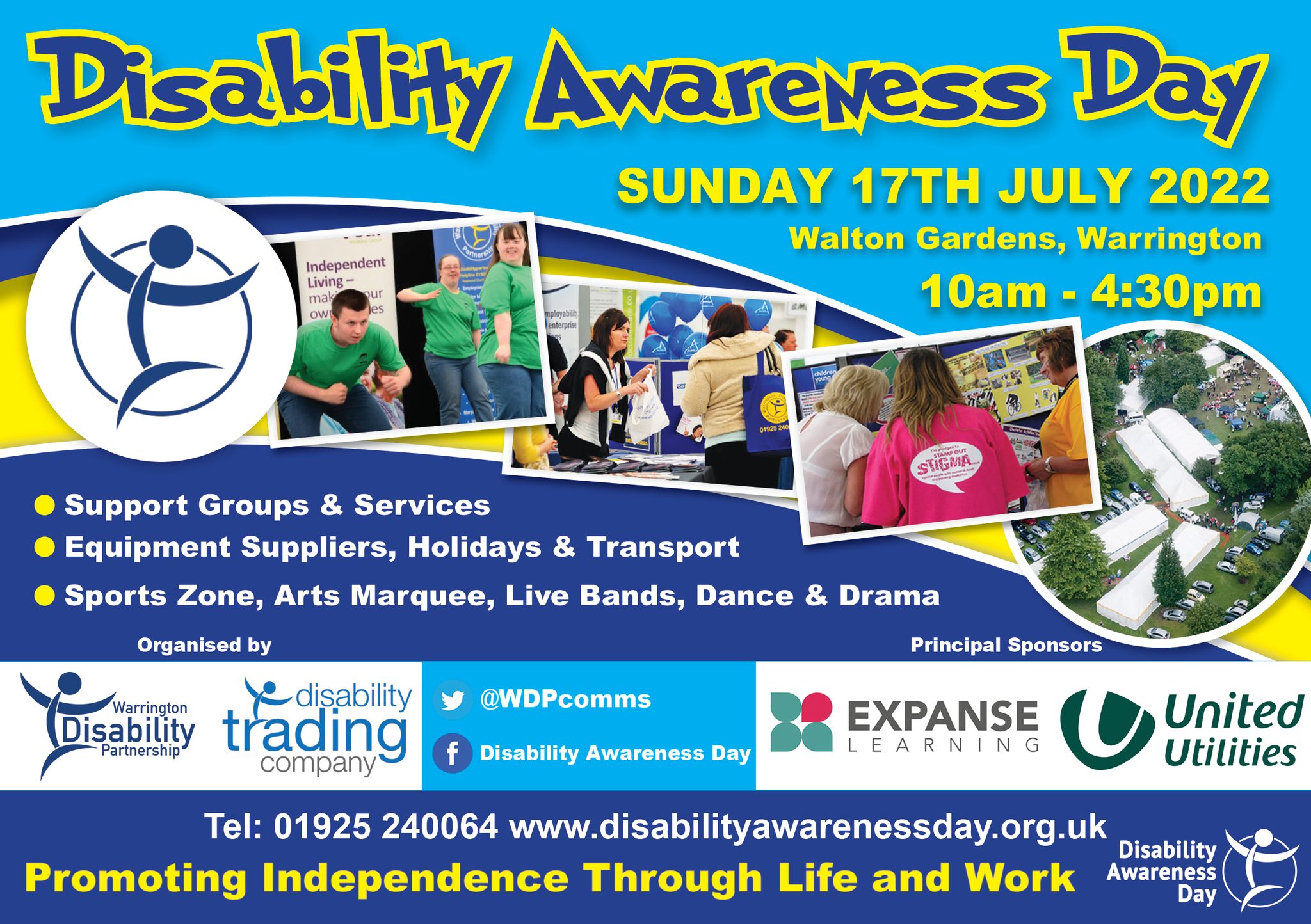 Mobility and Independent Living suppliers from across the UK are being invited to exhibit at this year's Disability Awareness Day on Sunday 17th July. Well organised, well publicised, a huge turnout and affordable, are some of the words used by BHTA members who have exhibited at previous events that regularly attract over 20,000 visitors. 
This year's event will be Warrington Disability Partnership's 31st annual disability festival. Since its humble beginnings three decades ago DAD, as it is affectionately known, has grown immensely and has taken place in 13 countries worldwide, DAD Warrington is recognised as the world's largest voluntary led pan disability event. What started out as a one-off, one-day event is now one of the highlights of the international disabled community's calendar.
The historical Walton Hall and Gardens will once again be the location for the event, which offers a tented village housing over 200 exhibitors promoting independent living, a "Can Do" Sports Zone with Scuba Diving in our onsite pool, Inclusive Cricket, Wheelchair American Football, Wheelchair Basketball, Tai Chi, Martial Arts, Wheelchair, Physical Disability and Learning Disability Rugby League.
"The back-story to DAD is a great example of just how far a 'can do' attitude can take you," says Event Founder and Co-Ordinator, Dave Thompson MBE DL.
'There is no greater satisfaction for me than seeing 'DAD's Army' of over 100 volunteers coming together to support people to enjoy and access our week-long programme of events – all of which are about celebrating diversity and promoting independent living. A huge thank you to all of our sponsors – including principal sponsors Expanse Learning and United Utilities- there is something for everyone during 'DAD and DAD Week' and I urge people of all ages to take the opportunity to join us at Walton Hall Gardens".
DAD caters for families and people of all ages, with over 120 disability support charities, being pan disability means there will be something for everyone, including mental health, sensory impairments as well as neuro diverse, physical and learning disability. Dozens of businesses will be promoting mobility and independent products, wheelchair accessible vehicles, car adaptations and Motability car dealerships, alongside statutory service providers, health, social care, education and employment.
The crowds in the Arts Marquee will be treated to acts including nationally acclaimed Ella Together Performance Group, plus Creating Adventures Beautiful Noise Choir, Carly Ryan, Dream Team Drama, BSL Signing Choir, Stars Drama, Signature Brass Band, and more. The Centre Arena entertainment included the Reach Sled Dogs, Birds of Prey, Physical Disability Rugby League and Martial Arts. A marquee will be dedicated to Silent Disco and a Visual Arts Marquee will offer painting, photography, poetry, and reading, including nationally acclaimed, Grandad Wheels story telling.
One of the highlights of this year's show will be WDP's Disability Heritage Project which includes a display of vintage mobility equipment including a 1970's Invacar AC70, a 1917 three-wheeled invalid trike and a pre WW1 wicker wheelchair.
DAD is free to enter and includes a free 40-page event programme. Checkout the range of complimentary services; BSL interpreters, wheelchair and scooter loans, free park and ride and free buses from Warrington town centre.
The main day follows a week long programme of events including Merseycare's Ignite Your Life, Metal Health and Well-being, Comedy and Curry Night in aid of the 2022 Physical Disability World Cup hosted by international star Adam Hills, Carers Well-being Day, and much more.
For more details about Disability Awareness Day and Week visit www.disabilityawarenessday.org.uk To exhibit or advertise, call Kate on 01925 240064 or email her at k.picken@disabilitypartnership.org.uk